Intention of images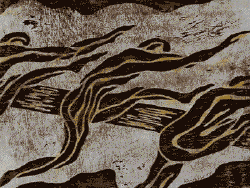 Hürde

My main subject, human being in its various relations, deals with a big problem in todays society. A lot of people suffer from isolation. Their problem is a loss of relations. Therefore, for me it is important to show particularly intensive relations and situations in which intensive relations could be experienced.

Some of my prints, for example some sport scenes, intend to visualize this human subject in everyday life. These prints are part of the series gods closeness in everyday life. In the preface of this serie it is said: A circus trapeze act is fascinating due to the sportive power and precision.

Considering human trust, the actual subject, is even more important. In this situation one human fully trusts another and is picked up by him in the decisive moment. To me this extraordniary trust represents the basic faith to the one we call god.


Intention of scupltures:
The sculptures mainly reflect my fascination of abstract shapes. I keep on going to search for the most fascinating shapes and at the same time wonder about their diversity. The "lighted stones" benefit from the transparence of the alabaster which is stressed by an internal light.